Fall 2014
news
A LETTER FROM THE DEAN
As Cal Poly continues to add accolades to its list of national recognition, we celebrate some of the amazing achievements of our faculty, students and alumni in 2014.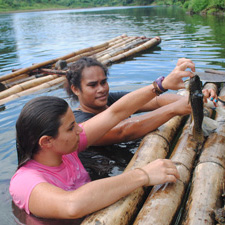 CALLING THE JUNGLE HOME
Cal Poly Anthropology Professor Dawn Neill has been traveling to Fiji for years to conduct social anthropological research, and this past summer she took four students as research assistants.
SEWING THE SEEDS OF EQUALITY 
IN APARTHEID SOUTH AFRICA
In 1975, Cal Poly Ethnic Studies Professor Denise Sheridan traveled to South Africa, one of a small number of black students from the U.S. who witnessed apartheid firsthand, as well as the movement for freedom.
SCHNUPP'S 'IVY' GIVES RIGHTS ACTIVIST A SECOND ACT
When Cal Poly Theatre Professor Al Schnupp reconnected with fellow playwright and longtime friend Ellyn Gersh Lerner to write a play about activist Ivy Bottini, they met a rare character and a brave woman.
ONE GIANT LEAP
With robots, space exploration and a "can-do" attitude in common, it is no surprise that Cal Poly attracted the attention of NASA's Jet Propulsion Laboratory (JPL), on the Caltech campus. Late last year, JPL reached out to the Graphic Communication Department to maximize its online communication strategies.
FROM POLITICAL SCIENCE STUDENT TO PUBLIC SERVICE TRAILBLAZER
Kelli Seybolt (B.A., Political Science, 1990) has spent more than 20 years as a dedicated member of the federal service with posts that include deputy undersecretary of the Air Force and chief of the Space and Cyberspace Division, International Affairs. At Cal Poly's Homecoming, Seybolt was named CLA's Honored Alumna.
Related Content