Diversity in the College of Liberal Arts

Intergroup Dialogues members 2018-19
College of Liberal Arts Diversity Statement
The College of Liberal Arts (CLA) sees diversity as central to its mission and is committed to fostering an equitable and inclusive environment within the college and university. The CLA, home to the foundational disciplines forming the scholarly bases for cultural awareness, knowledge, and skills, is a logical leader in the university with regard to diversity, equity and inclusion.
We expect our classrooms and our work environments to be places of respectful engagement and informed debate that maintain human dignity. 
We value our diversity of complex and intersecting identities, while striving to maintain an environment that is socially just, equitable, respectful and inclusive.
We acknowledge that differing perspectives, which arise from our own individual and group experiences and our social positioning, are central to the development of thoughtful and critical thinkers, scholars, and change agents.
Advancing Diversity Showcase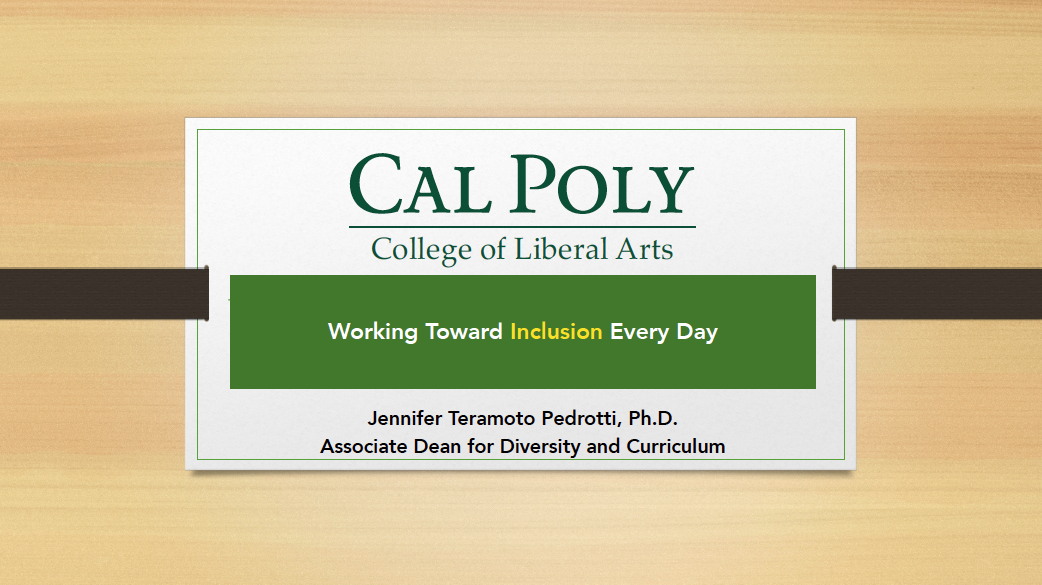 View Jennifer Teramoto Pedrotti's presentation on 2017-18 goals, progress, and what's next for the CLA in "Working Toward Inclusion Every Day."

Diversity Initiatives Shaping Campus
Jennifer Teramoto Pedrotti, CLA associate dean for diversity and curriculum, talks with psychology senior and CLA Student Diversity Committee member Marcos Ramirez-Santos about diversity initiatives that are shaping campus. The video originally appeared in the winter 2018 edition of Cal Poly Magazine.
Teramoto Pedrotti also wrote a letter to 2017 for the Cal Poly Magazine's "My 2017" feature, which included Cal Poly students, faculty and alumni sharing how the year challenged them — and changed their lives for good.
Related Content