Helping Small Brands Dream Big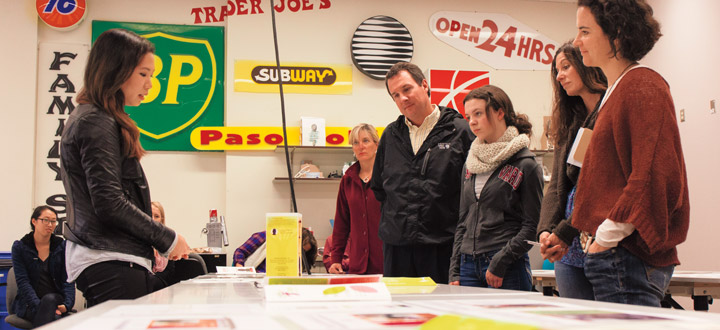 As part of the real-world experience, students presented their concepts to their clients. | Photo: Chris Barr
Cal Poly students help real-world clients shape business identities
"It's really beneficial for students to work for a nonprofit or a startup because they can see the benefit. They can see the power of design for the company and how much their work is helping."
— Kathryn McCormick
In the 21st century, a business is only as good as its brand. Cal Poly Art & Design Department students in Graphic Design II were given a rare opportunity to help real-world clients develop brand identities. Students experienced first-hand the work that goes into visually communicating a company and its vision.  
The students partnered with three organizations: The Humble Hive, an emerging business focused on environmentally conscious bee products; Zozu, a nonprofit agency that helps African communities thrive; and the Templeton Recreation Department Skate Park.

Angie Logan from Humble Hive marvels at the
extensive work of the graphic designers.
Photo: Chris Barr
"It's really beneficial for students to work for a nonprofit or a startup because they can see the benefit. They can see the power of design for the company and how much their work is helping," said Kathryn McCormick, Art & Design Department professor.
In developing the comprehensive identity systems for their clients, the students considered color theory, typography, cultural differences, trends and taglines. The holistic exercise gave clients a variety of tools to help their businesses grow, including logos, business cards, clothing, packaging and websites.
"The clients were just blown away," McCormick said. "As the first student was getting ready to present, one of the Zozu representatives looked at the designs and just started crying. In seeing her vision come to life, Angie Logan of The Humble Hive said, 'Oh my God, I'm going to have my business.'"
For Ken Zink and the Templeton Skate Park, the students helped define the park's identity, giving local skaters a place of their own.

Students created a range of pieces to show clients,
including logos, packaging, posters and more. | Photo: Chris Barr
Such deep-rooted class involvement also provided students the opportunity to gain experience with the types of companies they hope to work with after they graduate from Cal Poly.
Student Jenna Castillo was motivated to pick the Templeton Skate Park as her client because she's always liked the skater industry. "I've always liked the look, and in my future career, I want to work in something related to making logos for a skate park or for a skater brand."
Through the class project, students received real experience in the business ecosystem of San Luis Obispo, with real pressures (including last-minute design changes), real deadlines, and a really transformative experience, for both the designers and their clients.
"Such a demanding project is worth it," McCormick said. "To see the clients so happy, to see the students so happy, to see them have these awesome portfolio pieces and this experience — it's a win for everyone."
Download a pdf of this article or a pdf of the full IMPACT magazine.
Related Content