Cal Poly Students Honored by Lawmakers at State Capitol
Nineteen Cal Poly students, including five from the College of Liberal Arts, were recognized for their awards and other accomplishments by state lawmakers on the floors of the state Assembly and Senate in Sacramento on Monday, Feb. 12, 2018.
The five students from the College of Liberal Arts were:
Cara Benson
Journalism 
Cara Benson is a senior journalism major from Folsom, California. As part of Mustang News, her team won nine first place wards from the Associated College Press and the California Media Association at the Midwinter National College Media Convention. 
Jeremiah Hernandez
Ethnic Studies & Sociology
Jeremiah Hernandez is a senior transfer student from Santa Maria, California. He is majoring in ethnic studies and sociology. Hernandez was individually awarded as the Michael A. and Debe Lucki Scholar at the 2017 CSU Trustee's Awards for Outstanding Achievement.  
Colton Marino
Political Science
Colton Marino is a senior political science major from Lincoln, California and a member of the Kappa Sigma Fraternity. Marino and his team won the Best in the West Jellison Award-Interfraternity Council at the Association of Fraternal Leadership and Values Conference. 
Mayra Mejia
Graphic Communication
Mayra Mejia is a recent Cal Poly graduate (Graphic Communication, '17). She and her team won the Helmut Kipphan Cup Grand Prize at the Technical Association of Graphic Arts Annual Technical Conference.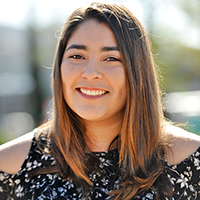 Bianka Pantoja
Journalism 
Bianka Pantoja is a junior journalism major from Arvin, California. As a part of Mustang News, Pantoja and her team won five first-place awards and the College Media Design Program of the Year at the College Media Business and Advertising Managers Annual Contest.  
Related Content