CLA Shoutouts
Check out our monthly roundup of faculty, staff, student and alumni accomplishments and news. 
Submit your news and stories here.
September 2023
Faculty
Congratulations to the 2023 Teacher-Scholar Mini-Grant Awardees. See the full list of winners below.
| | | | |
| --- | --- | --- | --- |
| Applicant | Co-PI | Department | Title |
| James Antony | Kelly Bennion | Psychology and Child Development | Making brain waves: EEG training for undergraduates |
| Nancy Arrington |   | Political Science | The Book Club Module: How collaborate exposure to new content for both instructor and student demystifies academic research and builds classroom culture. |
| Ryan Buyco |   | Ethnic Studies | Ethnic Studies in Hawai'i Summer Program |
| Geoffrey Andrew Fricker | CSSE Associate Professor Jonathan Daniel Ventura | Social Sciences | From Drone to Satellite:  Three applied spatial ecology research projects that use deep learning to analyze remote sensing imagery |
| Martha Galvan Mandujano |   | World Languages and Cultures | Genocide Museums and Genocide Prevention: A Comparative Look at Guatemala and Cambodia |
| David Gillette | Computer Science Professor Michael Haungs; LAES Administrative Coordinator Luna Larsen | Liberal Arts and Engineering Studies; English | The Empowering Autistic Scholars Mentoring and Research Training (EAS) Program |
| Martine Lappe |   | Social Sciences | Identifying the Social and Ethical Implications of Early Life Adversity Science:  Exploring Researcher, Community, and Pediatric Professional Perspectives |
| Leslie Nelson |   | Communication Studies | The Impact of Socialization Messages about Racism in Black Americans' Family Discourse |
| Mira Rosenthal |   | English | Edge Effects: Poems |
| Krista Sarraf | English Assistant Professor Shanae Martinez | English | Researching, Piloting, and Assessing the Editing for Justice Project |
| Ava Wright |   | Philosophy | The AI Ethics Lab |
---
Congratulations to the 2023 CLA Summer Scholarship Support Program (CSSS) awardees. See the full list of winners below.
Jnan Blau

COMS

Deep Engagement: A Typology of Fandom and Fan Cultures

Sarah Bridger

HIST

Life as We Know It: Biologists and the Remaking of American Science and Society in the 1970s

Laura Cacciamani

PSYCD

The Effect of Brain Stimulation on Entrepreneurial Creativity

Sophia Forster

ENGL

Assessments of Liberalism in Late-Nineteenth-Century American Fiction

Andrew Fricker

SOCS

Mapping Social Justice in Space and Time: Developing tools to green California schools for a warming climate

Ken Habib

MUS

The Fairuz Phenomenon: Lebanese Cosmopolitanism in Arabic Song

Lydia Heberling

ES

Tricksters in the Waves: A Trans-Indigenous Examination of Surfing in Contemporary Native Literatures 

Eleanor Helms

PHIL

Thoughtless as an Intellectual Vice 

Matt Hopper

HIST

Liberated Africans in the Indian Ocean World

Thanayi Jackson

HIST

Mapping Mary Ellen Pleasant in the California Colored Conventions

Martine Lappe

SOCS

Identifying the Social and Ethical Implications of Early Life Adversity Science:Centering Parent Perspectives and Advancing Health Equity

Silvia Marijuan

WLC

The use of gender-inclusive language in Spanish bilingual and second/heritage language education: opportunities, challenges, and future directions

Shanae Aurora Martinez

ENGL

On Land Acknowledgements: Storytelling Pedagogy in Theory and Practice

Jose Navarro

ES

Hollywood's Heart of Darkness: Screening the Eastside of Los Angeles (Chapter 2 in The Reel Barrio: The History & Politics of Chicana/o Gang Film)

Michael Park

JOUR

Titles and Pronouns in the Academy: Theorizing Academic Freedom and In-Class Speech Pursuant to Classroom Management 

Emily Ryalls

ISLA

The Post-Queer Context of Netflix's Girl Centered Series

Gabriel Soldatenko

ES

Decentering the History of Western Political Philosophy: Spanish Colonialism and the

case of Vasco de Quiroga"

Robert Wallace

PHIL

Fear as an Obstacle in Acting and Knowing

Ava Wright

PHIL

Veracity and Free Speech

Hocheol Yang

GRC

Are online learning opportunities equitable for all students, and how does the self-efficacy gap affect learning outcomes during COVID-19?
---
Cal Poly's division of Research, Economic Development and Graduate Education (R-EDGE) announced the 17 awards for the 2023-24 cycle of the Research, Scholarly and Creative Activities (RSCA) grant program. Congratulations to the CLA awardees below.
"Local Implementation of an AI-generated Legislative News Tipsheet"; Kim Bisheff, Journalism 
"Watching for Sasquatch: A New Environmental Play"; Ramón Esquivel, Theatre and Dance
"Social Policy and Extreme Weather: How Tightly Woven is Our Safety Net?"; Leanne Giordono, Political Science
"Africancalifornios.org: Data Visualizations that Explain the Role of Afro-descendants in Early Spanish and Mexican California (1768-1850)"; Cameron Jones, and Foaad Khosmood,Computer Engineering/Computer Science and Software Engineering
"Educational Context and Investments in Child Health Across Africa"; Sara Lopus, Social Sciences
"User Experience for Social Impact: Establishing a University-Nonprofit Collaboration"; Krista Sarraf, English; Hocheol Yang, Graphic Communication; David Gillette, English/ Liberal Arts and Engineering Studies; Michael Haungs, Computer Science/ Liberal Arts and Engineering Studies; Franz Kurfess, Computer Science and Software Engineering; and, Emily Robinson, Statistics 
"The Use of AI-Created Selfies in a Public Service Announcement (PSA) Campaign Targeting College Students: The Impact of Self-Reference on Issue Relevance and Engagement."; Yan Shan, Journalism and Ruoxi Rachel Ma, Graphic Communication
---
Students

Dani Bello
Congratulations to fourth-year political science student Danielle "Dani" Bello, who will serve as Cal Poly's 2023 representative to the Panetta Institute Congressional Internship Program. 
After a two-week training period at the Panetta Institute at CSU Monterey Bay, Bello will work in the capitol office of a California congressional representative in Washington, D.C., for 11 weeks in the fall.  
"Since my first day at Cal Poly I've wanted to embody Learn by Doing and pursue hands-on opportunities, especially in the policy sphere," said Bello. "I'm excited to learn more about the intricacies of public policy and be in the spaces where the important conversations are happening.
2023
February
Faculty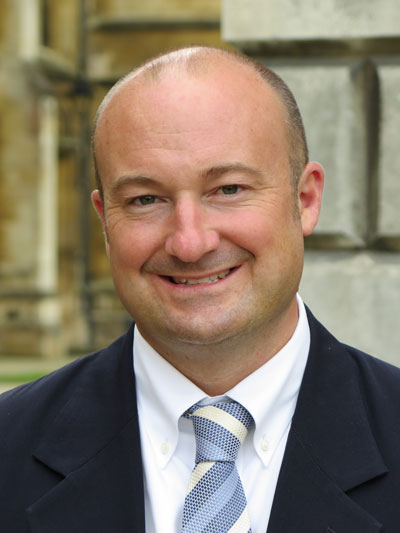 History Professor Matthew Hopper.
Congratulations to history Professor Matt Hopper who is part of an NEH grant project that recently received nearly $400,000 in funding. The project, titled "Global Passages: Creating a Public Database of Slaving Voyages across the Indian Ocean and Asia," is working to create a database of Indian Ocean and Asia (IOA) slave voyages and contextualize it in the open access Slave Voyages website.
---
Students
Liberal Arts and Engineering Studies student Leticia Mezzetti was part of the interdisciplinary team that won the top prize at Camp PolyHacks. Learn more about the team's project, an ananonymous blog space dubbed Lumi that is designed to help marginalized groups build community. 
Read more about Camp PolyHacks.
---
Alumni

Sanzari proudly designs toys for Disney and
Pixar movies. Image courtesy of Kristen Sanzari.
Kristen Sanzari (Art and Design '11) brings your favorite animated characters to life designing toys for Mattel.
Throughout her time at Mattel, Sanzari has gotten to have brainstorm sessions at Disneyland, skip the lines at Universal Studios, attend San Diego Comic Con annually, and travel to Hong Kong and China to visit Mattel-affiliated factories. It may not be the path she envisioned as a student, but it's better than she could have imagined. Her advice: Don't pigeonhole yourself. Keep your options open.
Read more about Sanzari's career.

 
January
Faculty
Congratulations to journalism Professor Emeritus Paul Bittick who was honored with one of the inaugural Associated Collegiate Press (ACP) Pioneer Awards at the Fall National College Media Convention last October.
In honor of its 100th birthday, ACP celebrated 101 journalism educators and advocates with the awards.
The Pioneer is the only award ACP presents to journalism educators. 
---
Congratulations to social sciences Professor Nikhil Deb and student Nadejda Genshaft-Volz who recently had their paper, titled "In Addressing Climate Change, Business as Usual Is Climate Injustice," published in Just Security, an online forum for the  analysis of security, democracy, foreign policy and rights.
---
Ethnic studies Professor Emeritus Victor Valle is slated to have his article, "Toward a Poetics of Chile... In Another Mexico",  published in The Journal of Food Studies in February. The article is a prequel to his forthcoming book, "The Poetics of Fire: Indigenizing the Eco-aesthetics of Chile-eating" (Univ. of New Mexico Press, 2023).
Valle, alongside colleagues Catherine Trujillo, former Cal Poly Library staffer and current Deputy Director of the New Mexico Historical Museum; Jessica Eng, Cal Poly Digital Publishing Student Fellow; and Angel Diaz, curator of UC Santa Barbara's California Ethnic and Multicultural Archive, recently launched ChismeArte Home, a fully searchable digital humanities platform featuring the eponymous 1970s-1980s avant garde magazine. The inspiration for this project came from a student-designed and annotated library exhibit titled ChismeArte Y Que! Trujillo curated in 2008.
---
Students

Annie Kettmann is a 4th year
political science student with a
minor in ethics, public policy,
science and technology.
Last Spring, political science student Annie Kettmann was part of a group that won first place at the inaugural Change the World Challenge. Read her personal account of the experience here.
---

Cal Poly students encounter Highland "coo"
cows on the Pentland Hills Hike.
In summer 2022, 17 students and two professors from the Cal Poly English Department visited the English Lake District and Edinburgh, Scotland as part of a new Cal Poly Global Program for an immersive experience of literature in the landscape.
Read one student's account of the Learn by Doing experience.

At the Yorkshire moors students climbed
around and on the farm house that is said
to bethe inspiration for the setting in
Wuthering Heights.
Related Content