CLA Shoutouts
Check out our monthly roundup of faculty, staff, student and alumni accomplishments and news. Submit your news and stories
here
.
May 2023
Faculty
If science fiction can be believed, the robots are coming for all of us — but the latest advances in artificial intelligence (AI) technology are starting to make fiction seem like reality. With the recent headlines about rogue chatbots and universities using ChatGPT to generate condolence letters, Cal Poly News turned to English Professor Deb Donig, cofounder of the Ethical Technology Initiative at Cal Poly, to give her insight into the ethical implications of AI, specifically ChatGPT.
---
Students

Music Assistant Professor Arthur White and Cal Poly's
vocal jazz ensemble, MOSAIC.
MOSAIC, Cal Poly's vocal jazz ensemble, was named as an Outstanding Performance winner in the 46th DownBeat Student Music Awards (SMA) competition in the Small Group Undergraduate Vocal Jazz Ensemble Category.
DownBeat is the most notable publication for jazz in the country. The annual Student Music Awards are selected by blind audition. This is the jazz program's third DownBeat SMA in the last two years. Last year, the group won in an asynchronous category for their recordings during COVID, and alumna Mady Frei (Music, '22) was named as an Outstanding Soloist.
---

Faculty advisor Rachel Ma and the 2022-23 TAGA
team pose with their first place trophy.
Last month, the Cal Poly TAGA team won first place at the TAGA 2023 Technical Journal Competition held in Oklahoma City on March 12-15.
Since September 2022, the Cal Poly TAGA team has worked to  conceptualize, design, and produce the journal centered on accessibility.
The team recognzies their hard-working students, faculty advisor Rachel Ma and supporting GRC faculty and staff.
A special thanks goes to RealityBLU and Descript for their services that allowed Cal Poly TAGA to bring the journal to life, Printing Industries Association, Inc. and Visual Media Alliance for their donations that provided the team the ability to participate at the in person conference, and Poor Richard's Press for sharing their production facility. 
Check out the team's award-winning journal and access additional content. 
---
The College of Liberal Arts has a long tradition of honoring students of excellence. Check out the 2023 outstanding graduates as well as the awardees of both university- and college-level awards.
2023
April
Faculty

English Associate Professor
Steven Ruszczycky
English Associate Professor Steven Ruszczycky received an honorable mention in the 2023 John Leo and Dana Heller Awards for Best Single Work, Anthology, Multi-authored or Edited Book in LGBTQ Studies (administered by the Popular Culture Association) for his book "Vulgar Genres: Gay Pornographic Writing and Contemporary Fiction" (University of Chicago Press).
---

Part of the speaker line up for the
Sharing Desired Futures Conference.
Interdisciplinary Studies in the Liberal Arts Department Chair David Kirby will speak at the Sharing Desired Futures Conference in Linz, Austria next month. Kirby's talk will focus on the beneficial collaboration between industry and science fiction.
The event will present a series of conversations with the best from science, politics, art and business and learn how they share their visions of a future that may not be obvious to others.
---
Alumni

Rob't Coltrin.
Rob't Coltrin (Art and Design, '86) was recently honored as a "Disney Legend," the highest honor given at The Walt Disney Company. Coltrin has worked for the company for 29 years as an Imagineer, creating new attractions and "lands" for various Disney Parks. During his time as an art and design student at Cal Poly, he was involved with Cal Poly Choirs where he helped write, design, choreograph and direct shows. After graduation, he worked on shows such as the Oprah Winfrey Show and the Grammy Awards before joining the Walt Disney Imagineers in 1990. There, he began as a show set designer before moving through many disciplines and landing his final role as an executive creative director. Coltrin was officially inducted as a Disney Legend during the 2022 D23 Expo.

 
March
Faculty
Five CLA faculty members were honored with PolyReps Mentorship Awards at the annual Terrence Harris Mentorship Awards ceremony on Jan. 26. The PolyReps Mentorship Awards recognize staff, faculty and friends who have made a significant impact on a current Poly Rep student.
Congratulations to the following faculty members:
Elizabeth Barrett, Psychology and Child Development Department
Lauren Rachele Beck, Interdisciplinary Studies in the Liberal Arts Department
Ronald Den Otter, Political Science Department
Keli Moore, Journalism Department
John Astaire, Music Department
---
Students

The Froot team, left to right: Fred Pastrana,
Thucmy Dang,Javier de la Fuente, Heather Lopez,
Hanna Kraus and Han Wong.
An interdisciplinary Cal Poly team, including members of the Art and Design Department, received global recognition for their innovative packaging design. Graphic design students Han Wong, Fred Pastrana and Hannah Kraus, including art and design Assistant Professor Linh Dao, worked alongside consumer packaging student Colter Pruyn and industrial technology and packaging Lecturer Irene Carbonell to create 100 percent recyclable, stackable and convertable packaging for fruit. 
---
Alumni

Grace Curtis.
Last fall, Grace Curtis (Journalism, '22) joined the prestigious Capital Fellows Program offered through California State University, Sacramento, making her one of only 18 fellows accepted into the executive branch of the 11-month program. 
Read more about her work in the Governor's Office of Business and Economic Development on the Zero Emissions Vehicles (ZEV) team.

 
February
Faculty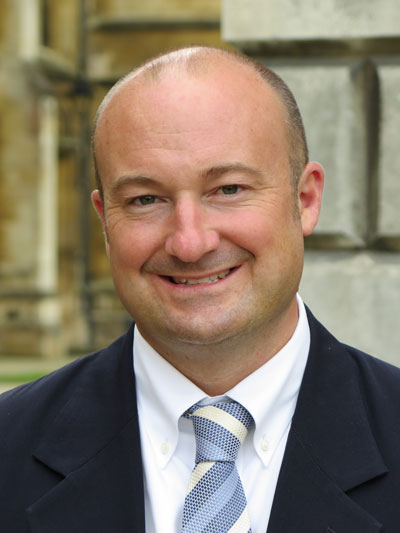 History Professor Matthew Hopper.
Congratulations to history Professor Matt Hopper who is part of an NEH grant project that recently received nearly $400,000 in funding. The project, titled "Global Passages: Creating a Public Database of Slaving Voyages across the Indian Ocean and Asia," is working to create a database of Indian Ocean and Asia (IOA) slave voyages and contextualize it in the open access Slave Voyages website.
---
Students
Liberal Arts and Engineering Studies student Leticia Mezzetti was part of the interdisciplinary team that won the top prize at Camp PolyHacks. Learn more about the team's project, an ananonymous blog space dubbed Lumi that is designed to help marginalized groups build community. 
Read more about Camp PolyHacks.
---
Alumni

Sanzari proudly designs toys for Disney and
Pixar movies. Image courtesy of Kristen Sanzari.
Kristen Sanzari (Art and Design '11) brings your favorite animated characters to life designing toys for Mattel.
Throughout her time at Mattel, Sanzari has gotten to have brainstorm sessions at Disneyland, skip the lines at Universal Studios, attend San Diego Comic Con annually, and travel to Hong Kong and China to visit Mattel-affiliated factories. It may not be the path she envisioned as a student, but it's better than she could have imagined. Her advice: Don't pigeonhole yourself. Keep your options open.
Read more about Sanzari's career.

 
January
Faculty
Congratulations to journalism Professor Emeritus Paul Bittick who was honored with one of the inaugural Associated Collegiate Press (ACP) Pioneer Awards at the Fall National College Media Convention last October.
In honor of its 100th birthday, ACP celebrated 101 journalism educators and advocates with the awards.
The Pioneer is the only award ACP presents to journalism educators. 
---
Congratulations to social sciences Professor Nikhil Deb and student Nadejda Genshaft-Volz who recently had their paper, titled "In Addressing Climate Change, Business as Usual Is Climate Injustice," published in Just Security, an online forum for the  analysis of security, democracy, foreign policy and rights.
---
Ethnic studies Professor Emeritus Victor Valle is slated to have his article, "Toward a Poetics of Chile... In Another Mexico",  published in The Journal of Food Studies in February. The article is a prequel to his forthcoming book, "The Poetics of Fire: Indigenizing the Eco-aesthetics of Chile-eating" (Univ. of New Mexico Press, 2023).
Valle, alongside colleagues Catherine Trujillo, former Cal Poly Library staffer and current Deputy Director of the New Mexico Historical Museum; Jessica Eng, Cal Poly Digital Publishing Student Fellow; and Angel Diaz, curator of UC Santa Barbara's California Ethnic and Multicultural Archive, recently launched ChismeArte Home, a fully searchable digital humanities platform featuring the eponymous 1970s-1980s avant garde magazine. The inspiration for this project came from a student-designed and annotated library exhibit titled ChismeArte Y Que! Trujillo curated in 2008.
---
Students

Annie Kettmann is a 4th year
political science student with a
minor in ethics, public policy,
science and technology.
Last Spring, political science student Annie Kettmann was part of a group that won first place at the inaugural Change the World Challenge. Read her personal account of the experience here.
---

Cal Poly students encounter Highland "coo"
cows on the Pentland Hills Hike.
In summer 2022, 17 students and two professors from the Cal Poly English Department visited the English Lake District and Edinburgh, Scotland as part of a new Cal Poly Global Program for an immersive experience of literature in the landscape.
Read one student's account of the Learn by Doing experience.

At the Yorkshire moors students climbed
around and on the farm house that is said
to bethe inspiration for the setting in
Wuthering Heights.
Related Content