CLA Shoutouts
Check out our monthly roundup of faculty, staff, student and alumni accomplishments and news. Submit your news and stories
here
.
September 2022
Faculty
Ethnic studies Professor Elvira Pulitano recently published a book titled, "Mediterranean ARTivism: Art, Activism, and Migration in Europe." The book frames the "crisis" narrative of contemporary illegalized migrations in Europe within a human rights debate. Learn more and check out the book here.
---
Grants and Fellowships and Trainings, Oh My! It's the beginning of a new academic year which means new opportunities. Check out some of the newest faculty opportunities below:
Cal Poly Global Programs is seeking proposals from faculty wishing to pursue teaching abroad through the program. Faculty who want to initiate a new faculty-led Global Program or teach on an existing campuswide program should note the upcoming deadlines of November 1 for winter or spring 2024 and April 1 for summer or fall 2024. 
The NEH Spotlight on Humanities in Higher Education grant program supports the exploration and development of small projects that would benefit underserved populations through the teaching and study of the humanities. 

The Spotlight program supports activities such as curricular or program development, expert consultations, speakers' series, student research, creation of teaching resources, and community engagement. Projects may benefit students, faculty, the institution or organization, and/or the community.

Proposals are due to the NEH on 11/2/2022.

Faculty exploring this opportunity should submit a Cal Poly R-EDGE Pre-Award Proposal Initiation Form ASAP to be added to the R-EDGE proposal queue. (It is better to submit the form now and then cancel plans rather than delay submission of this form.)

Maximum award amount: $25,000 for Exploration, $60,000 for Development
Expected output (at least one)

Community Partnerships; 
Curriculum; 
Faculty Development; 
Teaching Resources

Period of performance - Exploration: up to one year, Development: up to two years
ACLS invites research proposals for fellowships from scholars in all disciplines of the humanities and related social sciences. In 2022-23, the program will award up to 60 fellowships. ACLS invites applications from scholars pursuing research on topics grounded in any time period, world region, or humanistic methodology. 

T

he fellowship provides $60,000 to support 6-12 months devoted to full-time research and/or writing for scholars in all disciplines of the humanities and related social sciences. Tenure-track and lecturer faculty are eligible. 

An

ACLS Fellowship may be held concurrently with other fellowships and grants and sabbatical pay. Learn more here.
Consider attending a three-part faculty advising series that will cover:
---
Students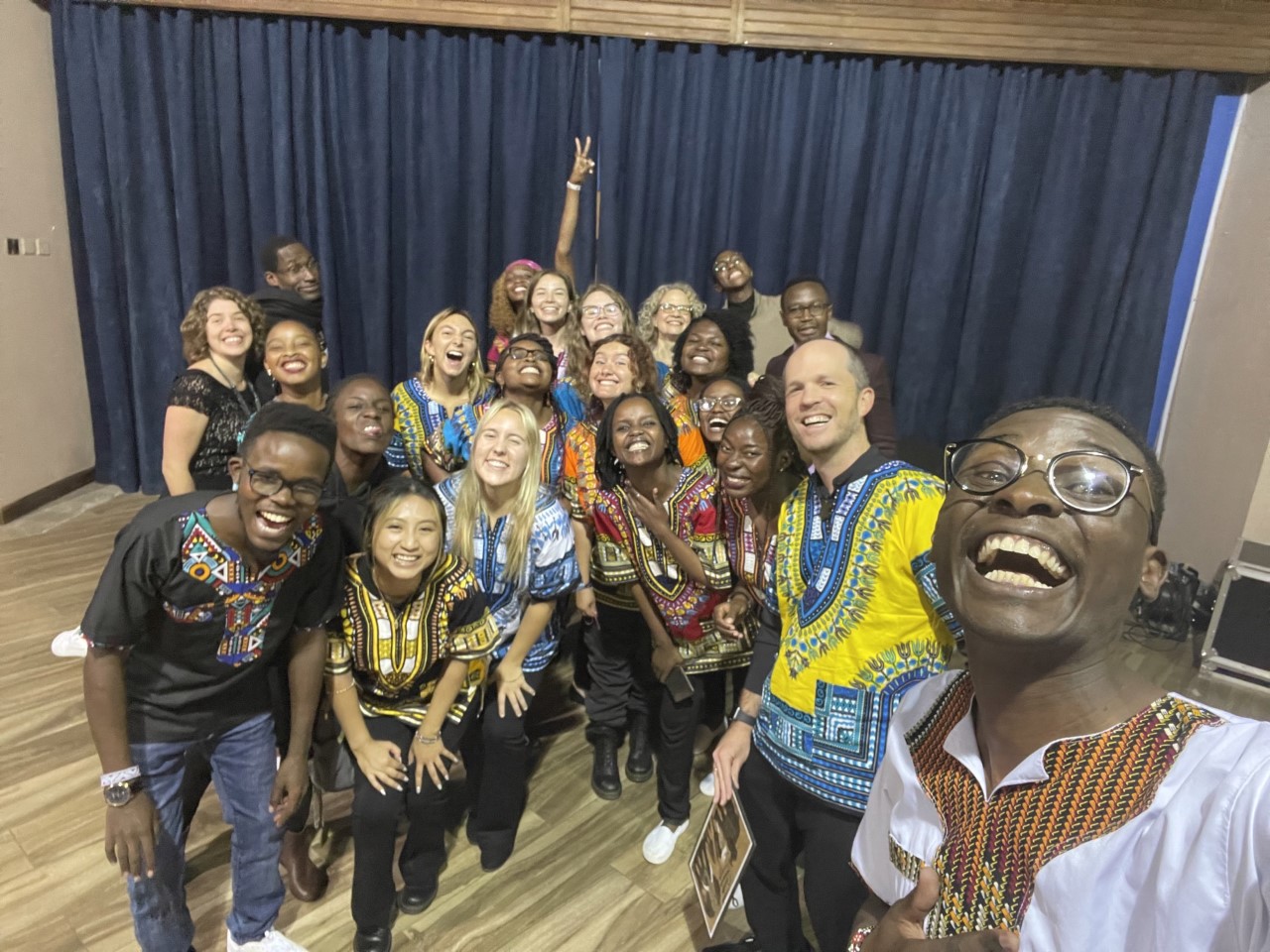 Students pose with new and old 
friends in Kenya during the 
third Kenyan Choral Conducting
Workshop.
Music Associate Professor Scott Glysson, Professor Meredith Brammeier, and several Cal Poly students recently returned from a trip to Kenya for their third Kenyan Choral Conducting Workshop. The group spent four days conducting, singing and learning and ended the trip with an "amazing" 3-day safari in Maasai Mara. 

Students pose alongside Associate
Professor Scott Glysson during
their safari.
The group visited local community choirs, church groups and did everything from join in on a rehearsal of Messiah to play golf at a local country club!
A choir from Kenya is set to perform on June 4 at the Cal Poly Choirs' Spring Concert.

The group shares a meal. 
2022
February
Faculty
Martin Mehl 
authored Chapter 11, "Digital Literacy & Mentorship Communication," in the "Handbook of Online Learning in Higher Education". Mehl was also honored as a Mustang Mentor during the Cal Poly v. UC San Diego Women's Basketball game on January 27, 2022. 
---
Alumni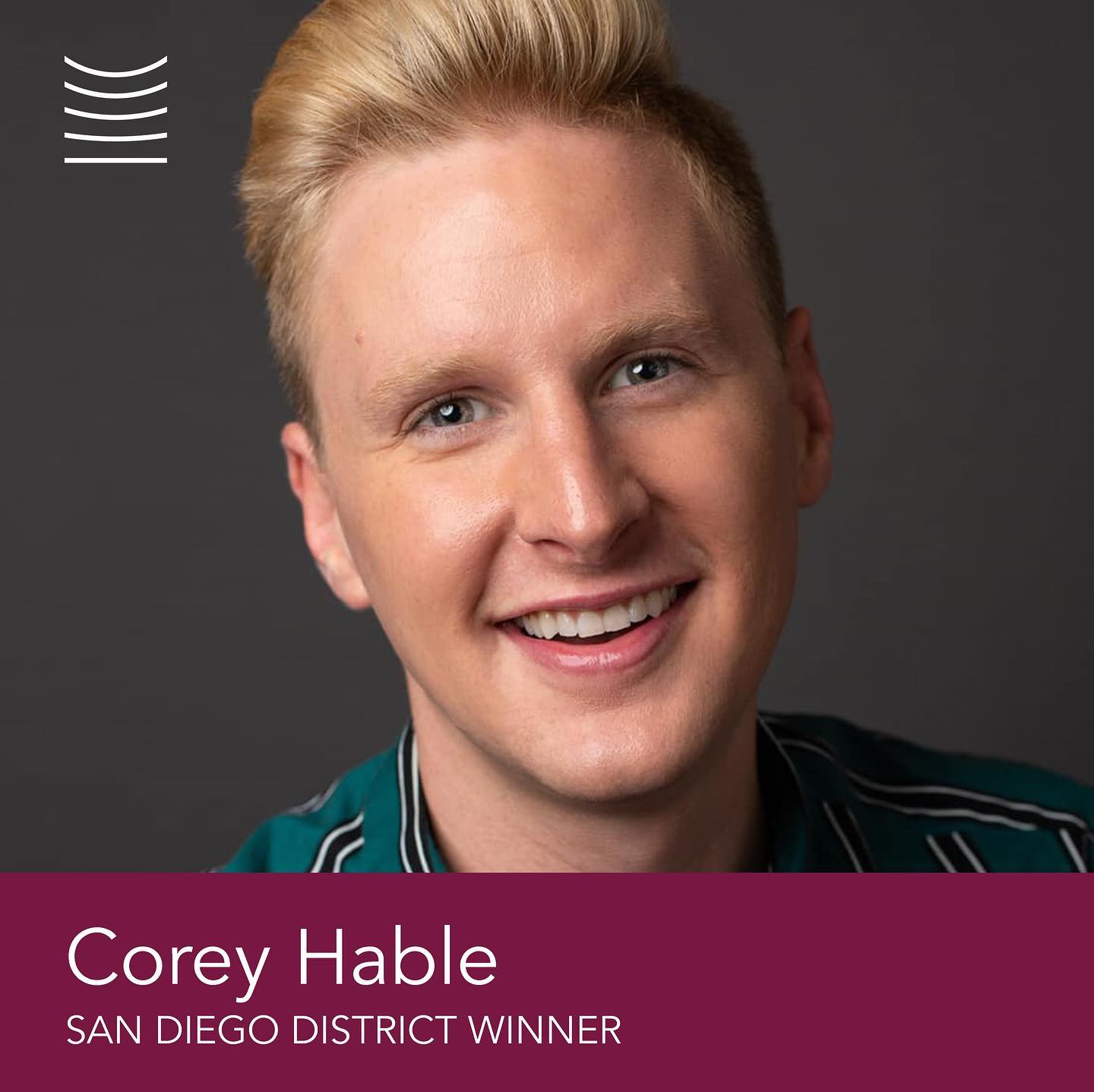 Corey Hable (Music, '17) was one of three winners of the San Diego district auditions for the Metropolitan Opera Laffont Competition — the biggest opera competition in the country. Hable will now move on to the Western Region Finals at the Colburn School in Los Angeles on Sunday, February 20. If Hable wins in Los Angeles, he will move on to the semi-finals in New York City.
Chloe Heinz (Graphic Communication, '21) was part of the cross-discipline student team that worked in collaboration with local health officials to create an app that community members can use to find the nearest location to get naloxone — an opioid overdose reversal medicine.
---
Students
Two teams of LAES students, advised by Dr. Michael Haungs and Dr. David Gillette, won prize money in the "Florida Hacks with IBM" national hackathon to combat global climate change.
The hackathon issued challenges to the nation to work in multidisciplinary teams to compete in developing solutions to one of six climate change challenges. These challenges were "Climate Change & Florida Ecosystem", "Improving the Condition of Florida's Waterways", "Sustainable Fisheries", "Power Consumption", "Animal Agriculture", and "Wildcard".
The two teams entered the competition at the beginning of Fall quarter, 2021, and submitted their solutions to the "Sustainable Fisheries" and "Power Consumption" on November 29th.
The "Sustainable Fisheries" team members were Brooke Anderson, Danielle Caparas, Jason Chu, and Matthew Killbride. They won 1st place in this category with their cloud-based mobile application, Fish Grid, designed to incentivize sustainable fishing practices. This came with $3000 in prize money.
The second team with team, consisting of JJ Alen, Joe Debruynkops, and Corinna Donovan, designed a system to cool solar panels to increase energy output for the "Power Consumption" challenge. They received $200.
Read more from the College of Engineering.

 
March
Faculty
Philosophy Professor Patrick Lin was quoted in an article by Independent Online (IOL), one of South Africa's leading news sources. Lin is mentioned at the end of the article warning about the dangers of cyber-warfare.
---
ISLA Department Chair David Kirby was interviewed by Mel Magazine about about genetic engineering and its intersection with the critically acclaimed science fiction film "Gattaca".
---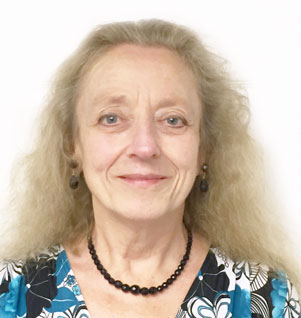 On March 7, Music Professor Alyson McLamore led a conversation and audience Q&A with Adeline Mueller about her new book, "Mozart and the Mediation of Childhood." The event for the Mozart Society of America titled, "Spinning Songs and Sibling Harmonies: A Conversation on Mozart and the Mediation of Childhood," discussed the nascent children's music industry in Mozart's Europe.
---
English Assistant Professor Dr. Steven Ruszczycky's new book, "Vulgar Genres: Gay Pornographic Writing and Contemporary Fiction" was published by the University of Chicago Press in January 2022.

 
April
Faculty
Music Professor Craig H. Russell has composed a new construction of the song "O, mistress mine," from Shakespeare's "Twelfth Night," which he believes is the closest approximation to the 1602 production. Music student Dylan Benander will sing the piece, accompanied by Russell on guitar, for his senior recital on Saturday, May 7 at 3 p.m. in room 218 of the Davidson Music Center.
See more upcoming music events.
---
Students
Psychology student Ariadne Kaylor is presenting one of ten research projects chosen to represent Cal Poly at the CSU Research Competition from April 29-30. Kaylor's project titled, "Relationships Between OCD Symptoms, COVID Anxiety and Cognitive Distortions," was advised by psychology Professor Laura Freberg.
Read more about the other projects.
---
Communication studies student Gaby Perez's artwork was one of more than 50 to be released by the San Luis Obispo sustainable art and home goods store Buen Dia. The California-inspired prints are eco-friendly made from 100% cotton paper and printed using vegetable based ink. SLO themed watercolors made in collaboration with Perez pay tribute to the city's history. 
(Artwork courtesy of Buen Dia and Gaby Perez)
---
Departments
The Music Department was awarded a $500 prize from the Center for Teaching, Learning & Technology (CTLT) for producing the highest number of improved digital instruction materials at Cal Poly during the CSU Ally Challenge, logging 177 improved files.
The CSU Chancellor's Office Academic Technology Services and the Accessible Technology Initiative (ATI) hosted the CSU Moving the Needle Challenge, a five-day systemwide competition (April 4-8, 2022) that was dedicated to fostering equitable and inclusive digital learning environments for all students.
(Blurb courtesy of the CTLT)

 
May
Faculty
The Ethical Tech @ Cal Poly Initiative, led by Assistant Professor of English Deb Donig and Associate Professor of Interdisciplinary Studies Matt Harsh, was recently mentioned in the publication "Protocol" where they discuss the rise of tech ethicists and the new job landscape. Read the story.
---
 
No Emoji for Ennui installation.
Art and Design Assistant Professor and filmmaker Lana Z Caplan's short film "Autopoiesis" was included in the Urban Video Project exhibition No Emoji for Ennui at the Everson Museum of Art this spring. Caplan's "Autopoiesis" sources media from the internet — including audio of self-hypnosis how-to's, video from the 2018 PyeongChang and 1934 Berlin Olympics (from Leni Riefenstahl's Olympia) and music from Sun-Ra's Space is the Place — to deconstruct utopic visions of hashtag activism and autopoietic self-modulation in unregulated times.
Curated by Anneka Herre, "No Emoji for Ennui" was a four-person exhibition described by the curator as "explor(ing) the difficult-to-define emotional tenor of our time—one that often leaves us overstimulated and underwhelmed at the same time it demands endless positivity. By turns unsettling, contemplative, humorous, and filled with existential dread, the resulting show is a collective selfie of who and what we are now."
Watch the trailer for "Autopoiesis." More information about "No Emoji for Ennui."
---
Students
Anthropology and Geography students Emilio Espinal and Eduardo Villanueva-Gonzalez recently presented a paper virtually and won the Best Student Paper Award for Social or Environmental Justice at the 2022 conference of the California Geographical Society (CGS). The students were encouraged to submit their paper, titled "Housing Segregation in the United States: A Review of The Color of Law," for publication in the CGS journal, "The California Geographer".
---
Alumni

Pedro Armendáriz's senior photo,
at age 18, in 1931. Photo courtesy:
Cal Poly.
Cal Poly Alumnus Pedro Armendáriz received a posthumous honor at the San Luis Obispo International Film Festival Showing of "La Perla." The award, given by College of Liberal Arts Dean Philip Williams, was presented to the Head Consul for the Mexican Consulate out of Oxnard, Euclides Del Mar Arbona. He will personally deliver the award to Armendáriz's closest living relatives.
---
Clubs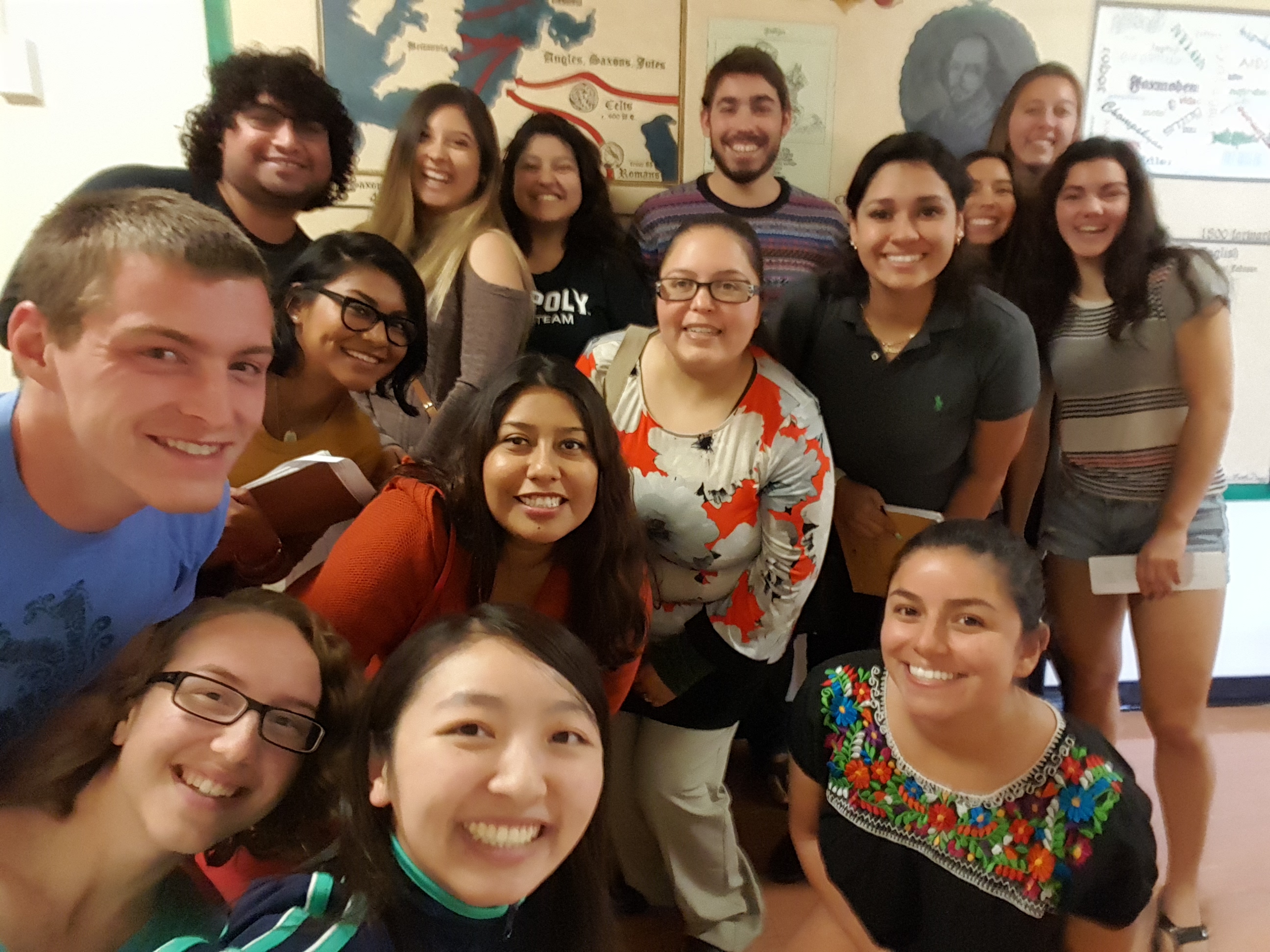 Members of the Spanish Debate Team
Spanish Debate Team members Austin Grassbaugh and Klara Perkins placed first at the Legados 2022, a debate founded by Cal Poly and co-hosted by Cal Poly and Centro de Enseñanza Técnica y Superior (CETYS), a private university in Mexicali.
The motion for this year's series centered on the water crisis that is affecting the Californias; specifically water from the Colorado River, the populations who depend on this water and the protected ecosystem of the Ciénaga de Santa Clara. In this context, the motion called for debaters to assess whether the Yuma Desalting Plant causes more harm than good.
Grassbaugh and Perkins advocated that given the current water crisis, any use of the Yuma Desalinating Plant causes irreparable harm to protected environments and endangered species and is only a "bandaid" to the larger water crisis that is affecting the United States and Mexico. They were joined in the final round by another Cal Poly team made up of first time debaters Alexander Torres and Aimee Nevarez who stepped in at the last minute to debate for the finalists from CETYS

 
June
Faculty
Congratulations to the many CLA faculty members who were recently promoted to the rank of professor, associate professor or who received tenure effective in the 2022-23 school year. See the full list of faculty promotions:
Promoted to Professor:
José Navarro (Ethnic Studies)
Colleen Twomey (Graphic Communication)
Matthew Harsh (Interdisciplinary Studies in Liberal Arts)
Linda Lee (Psychology and Child Development)
Thomas Bernard (Theatre and Dance)
Huei-Yu Chen (World Languages and Cultures)
Promoted to Associate Professor:
Lana Caplan (Art and Design)

Laura Krifka (Art and Design)

Megan Lambertz-Berndt (Communication Studies)

Steven Ruszczycky (English)

Dina Vees (Graphic Communication)

Farah Al-Nakib (History)

Yan Shan (Journalism)

Scott Glysson (Music)

Jay Bettergarcia (Psychology and Child Development)

Amber Williams (Psychology and Child Development)

Liz Johnston (Social Sciences)

Sara Lopus (Social Sciences)

Joan Meyers (Social Sciences)

Christian Anderson (World Languages and Cultures)
Received tenure:
Lana Caplan (Art and Design)

Megan Lambertz-Berndt (Communication Studies)

Dina Vees (Graphic Communication)

Farah Al-Nakib (History)

Matthew Harsh (Interdisciplinary Studies in Liberal Arts)

Yan Shan (Journalism)

Scott Glysson (Music)

Kelly Bennion (Psychology and Child Development)

Jay Bettergarcia (Psychology and Child Development)

Laura Cacciamani (Psychology and Child Development)

Liz Johnston (Social Sciences)

Joan Meyers (Social Sciences)

Christian Anderson (World Languages and Cultures)
---
Theatre and Dance Lecturer Hala Baki recently served as assistant director, translator, and Arabic language coach on the first ever Arab American play to be produced at the Oregon Shakespeare Festival (OSF). The play "UNSEEN" by Mona Mansour tells the story of an American conflict photographer who wakes up at the site of a massacre in Syria and must piece together what happened to her.
"As a major regional theater with a national reputation, OSF exemplifies how the American theater institution can answer the call for diversity and inclusion on stage by showcasing an array of perspectives and asking provocative questions," Baki said. "This production, along with others in their first in-person season since 2020, shows the company's commitment to creating real change in culture and representation. I'm proud to have been a part of this production.
Baki also taught "UNSEEN" in her spring course, TH 305: Race, Gender and Performance. 
"The playwright, director, and dramaturg of the production visited our class for a fruitful discussion of the play, its treatment of race and gender, and theater making more broadly. Many thanks to department chair Brian Healy for helping make these accomplishments possible," Baki said.
"UNSEEN" is currently open and running through July 31 in Ashland, OR (with a streaming option coming soon). Support the play here.
---
Students
Sociology student Brooks Lee is slated to be a top 5 draft pick in next month's Major League Baseball draft. Lee is the son of Cal Poly Baseball Coach Larry Lee. Read the Lee family's inspiring story in Cal Poly Magazine here.
---
Alumni
Last month, Matia Mathes (Communication Studies, '21) presented her senior project at the International Communication Association (ICA) Conference in Paris, France.  
Mathes initially came up with the idea for the project in Dr. Lauren Kolodziejski's class, COMS 422: Rhetorics of Science, Technology, and Medicine, where she created an informational poster of original illustrations, "How to Apply a Tourniquet." The poster provides visual instructions in four steps to easily teach tourniquet use for emergency situations.  
"In an emergency where someone is bleeding out, it is so much harder to read a paragraph of instructions compared to following four simple illustrations. I became very interested in the translation of difficult medical language into simplified visuals," Mathes said. 
Read more about Mathes' project and how it influenced her job out of college.
2022
Related Content