Class Acts - Julie Garcia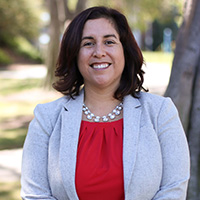 Julie A. Garcia / Psychology and Child Development Department
Specialty Area: Self and Identity, Stereotyping and Prejudice, Intergroup Relationships / Years at Cal Poly: 10 
What are your research/scholarly pursuits?
My research explores managing multiple social identities, multiracial identity and underrepresentation in STEM.
Are there any scholars or individuals who have inspired you?
My mother didn't pursue higher education because her father told her that college was just for men. In contrast, my educational achievements stem in large part from the love and support I receive from my family members. I strive to make her proud, and I hope that she sees that my achievements are also hers.
How/why did you choose to work at Cal Poly?
I am a product of the CSU system—I did my undergraduate work at CSUSB. I felt thrilled to give back to a system that significantly shaped my academic trajectory. I was specifically drawn to the small class sizes that enable faculty to facilitate greater dialogue about course content.
What is/has been your favorite class to teach?
I love teaching both my Social Psychology of Prejudice and Psychology of Gender courses. Both courses allow me to connect cutting edge research and psychological concepts to everyday experiences, which enable students to solidify concepts and see direct application.
What is your favorite class/student moment?
In my Social Psychology of Prejudice class, a student shared an exchange with his brother where he used class concepts to help his brother see possible assumptions he was making. In so doing, my student created more awareness and compassion in the world. I couldn't have been more proud.
What is one thing you wish your students knew about you?
I am an idealist and optimist. I believe that we can all do our part to make the world a better place. I strive to make a difference through my research, teaching, and mentoring of students.
What are your hobbies/extracurricular activities?
I love enjoying all the perks of living in San Luis Obispo—wine tasting, hiking, and the beach. I also enjoy cooking and entertaining.
If you were stranded on a desert island and could bring one book, what would it be?
I would bring a notebook. If I'm stranded, I will have a lot of time on my hands to finally write my own.
What is a fact about you that few know?
I have a twin brother who's my biggest supporter and best friend. He has been my biggest cheerleader for every step in my academic journey, and I have achieved so much because of his encouragement.
Download a pdf of this article or a pdf of the full IMPACT magazine.
Related Content