Alumna Rediscovers San Luis Obispo Through Culinary Palate

A map of farmers markets around San Luis Obispo County. | Photo: Kendra Aronson

Cal Poly graduate Kendra Aronson (Modern Languages and Literatures, '09) believes that the food you eat connects you to a long line of individuals who grow, produce and cook that food.
This connection — if you know where your food comes from — is what enriches the culinary experience. Aronson forged that connection for others through her new cookbook, which fully immerses readers in the farms, farmers and chefs who grow and prepare food on the Central Coast — the community that helps make San Luis Obispo special.
"I just love that we live in such a rich agricultural area where you can literally shake the hand that feeds you," Aronson said.
For her, building friendships and becoming connected with the community starts through the taste buds. During her time studying modern languages and literatures at Cal Poly, the local farmers markets introduced her to the value and benefits of natural produce.
"We live in a great place where many products are available most seasons, and everything is so vibrant, so delicious," Aronson said. "It's our soil, it's the climate, it's the people."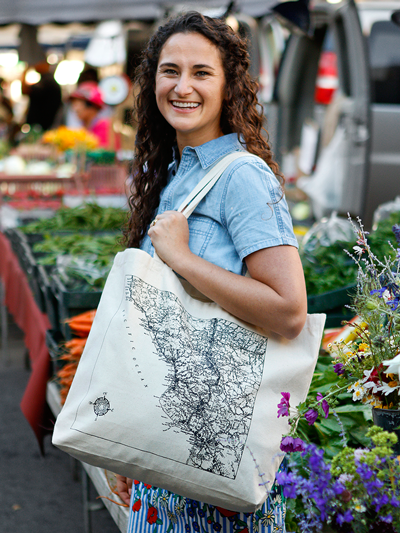 Modern Languages and Literatures alumna Kendra Aronson
shopping at the SLO farmers market. | Photo: Kendra Aronson​



Sumptuous produce from Kendra Aronson's
"SLO Farmers' Market Cookbook." | Photo: Kendra Aronson
Paying homage to the town's lively farmers market scene, she just published a cookbook for folks to experience the Central Coast through its food. "The San Luis Obispo Farmers' Market Cookbook: Simple Seasonal Recipes and Short Stories from the Central Coast of California," not only offers recipes, but the stories behind the businesses, artisans and farmers. The 196-page book features 60 seasonal recipes and 40 stories and interviews.
"It was really important to me for this project be a collaborative community effort. About 85 percent of the recipes are contributed by folks who are featured in the book," Aronson said.
To fulfill her vision, Aronson directed the complete production. She is simultaneously the writer, photographer, designer and publisher.
"I'm really passionate about seasonal food, cooking and baking, and I love the farmers markets. I had the concept of the cookbook brewing in my head for a few years and I just couldn't shake it," she said. "I thought, 'This needs to happen, and I need to be the person that is going to do it.'"
The book — which was published December 2015 — is not only a testament to her fond memories of Cal Poly and downtown, but ultimately, an exploration of the food that sustains the body and culture of the Central Coast.
"In the end, it's really the farmers who are the unsung heroes in SLO County," she said. "And this book would not exist without them."
To learn more and to follow Aronson's journey, visit the "SLO Farmers' Market Cookbook" website.
 
Related Content