CLA Athletes Honored at Big West Conference
Abi Iriafen (Track and Field/Political Science)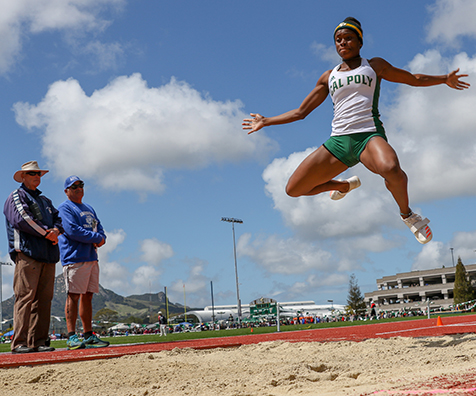 Abi Iriafen won the 2018 Big West Conference triple jump championship with a mark of 41 feet, 7.75 inches on May 12.
Her triple jump mark of 41' 8.5" on April 28 dominated at the Blue-Green Rivalry regular-season finale vs. UC Santa Barbara, topping the rest of the field by 1-foot-7.
Iriafen ranked 34th west of the Mississippi heading to the First Round of the NCAA Championships, in addition to No. 4 in school history. She was No. 15 nationally among sophomores for 2018, including No. 7 regionally.
A Political Science major from Rancho Cucamonga (concentrating in Global Politics), Iriafen also earned the win at the Cal Opener this season, in addition to taking second at both the UCSB Tri-Meet and Titan Challenge, as well as third at the #ShareSLO Invitational.
Selected as a Big West All-Academic honoree, Iriafen also was named to the 2018 USTFCCCA All-Scholar Team.
Josh Ortlip (Men's Tennis/English)
Ortlip helped lead the Cal Poly men's tennis team to the Big West championship match this past season after playing in the No. 1 spot all season, finishing with a 14-6 overall record.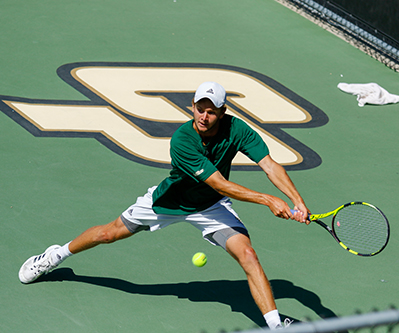 His singles success earned him a spot on the Big West All-Conference First Team. During the season, he earned Cal Poly's Coca-Cola Athlete of the Week twice and Big West Men's Tennis Athlete of the Week four times, becoming the 15th men's tennis player in Big West history to ever do so.
Ortlip was also named to the doubles All-Conference First Team after going 11-6 alongside Axel Damiens primarily at the No. 1 spot.
He was also honored for his performance in the classroom, being named to the Big West All-Academic Team.
Additional CLA/Academic and Athletic Honors
The following Cal Poly student-athletes from the College of Liberal Arts were honored on the 2017-18 Big West Conference or Mountain Pacific Sports Federation (men's and women's swimming) All-Academic Team for the winter and spring quarters. To be eligible, student-athletes must be a sophomore academically, maintain a cumulative grade-point average of 3.0 or higher and must have competed in at least 50 percent of their team's scheduled events.
Allison Scranton, senior, child development, women's track and field
Dan Cardiff, senior, child development, men's tennis
Trent Shelton, senior, communication studies, baseball
Abigail Bacharach, senior, communication studies, women's tennis
Caitlin Cox, senior, graphic communication, women's swimming and diving
Gabby Grupalo, senior, graphic communications, women's basketball
Kelly Wong, Senior, graphic communications, women's basketball
Desiree Gillaspy, senior, graphic communications, women's golf
Josh Ortlip, junior, English, men's tennis
Seriana Saltzen, sophomore, history, women's tennis
Alison Epple, sophomore, journalism, women's swimming and diving
Elise Goetzl, senior, journalism, women's swimming and diving
Alejandra Garcia, senior, journalism, softball
Abi Iriafen, sophomore, political science, track and field
Sophie Bergland, senior, psychology, women's golf
Celine Gruaz, junior, psychology, women's tennis
Chase Worthen, sophomore, psychology, track and field
Related Content