News & Notes 2022
Two CLA Faculty Members Pursue Fulbright Scholarships in Poland
History Lecturer Gregory Domber and English Associate Professor Mira Rosenthal are pursuing U.S. Fulbright Scholarships in Poland for the 2022-23 academic year. Domber is teaching and conducting research at the Jagiellonian University Institute for American Studies and the Polish Diaspora, while Rosenthal is teaching and conducting research at the Center for Translation Studies, also housed within the Jagiellonian University Institute in Krakow, Poland. The now-married couple first met in Poland as graduate students in 2003 while pursuing Student Fulbright Scholarships.
---
Ethnic Studies Department Chair Jenell Navarro Speaks at Indigenous Center Opening
Ethnic Studies Department Chair Jenell Navarro spoke at the opening celebration for the new Cal Poly Native American and Indigenous Cultural Center (NAICC) during a campus gathering on Oct. 14, 2021.
English Student Avi McManus Helps Lead 2021-22 Cal Poly Rose Float Team to Victory
English student Avi McManus played a key role in leading the 2021-22 Cal Poly Rose Float team to victory during the 2022 Rose Parade in Pasadena, acting as the San Luis Obispo team's vice president. The team's hard work and dedication paid off in the end, as Cal Poly secured the animation award.
---
Lecturer Honored for Promoting Family-Friendly Work Policies
Women's, Gender and Queer Studies Department Lecturer Christina Lefevre Latner was named First 5 San Luis Obispo County's January "Hands-on Hero @Work" for her role as workforce development manager with the San Luis Obispo Chamber of Commerce. Lefevre Latner received the distinction in recognition of her work spearheading the Family-Friendly Workplace Accelerator Program, which provides resources and supports SLO County businesses in fostering a strong workforce through family-friendly policies such as flexible scheduling, telecommuting and child care support. Within the next three years, she hopes to have 100 local businesses incorporate at least one family-friendly policy. 
Music Department Says Goodbye to One Chair and Welcomes Another 
Professor India D'Avignon has retired after an impressive career, including a three-year tenure as the Music Department's chair, where she brought music safely back to in-person performances. D'Avignon was instrumental in moving the Davidson Music Center's renovation and expansion back on the CSU's schedule and has also been involved with two national accreditation reviews of the department. Professor Alicia Doyle has been tapped as the new chair of the Music Department, coming from CSU Long Beach. Doyle specializes in medieval liturgical music, 20th-century Latin American popular and art music, and music appreciation. Thank you for your leadership, India and welcome, Alicia! 

---
ISLA Department Accepting First-Year Applicants
The Interdisciplinary Studies in the Liberal Arts (ISLA) Department is now accepting first-year applicants into its program. Students can select one of seven emphases and learn about the interconnections of themes ranging from film and social justice to health and climate challenges. The program, led by Professor and Department Chair David Kirby, aims to provide students with a truly interdisciplinary educational experience that is driven by each student's unique interests, questions and professional goals.
---
Spanish Language Debate Team Wins Civic Debate
In 2019, the Cal Poly Spanish Language Debate Team established the first Spanish-language civic debate in the United States, in which Spanish-speaking students from all majors debate contemporary issues affecting California. This year, Cal Poly's Austin Grassbaugh and Klara Perkins placed first at the Legados 2022, co-hosted by Cal Poly and Centro de Enseñanza Técnica y Superior (CETYS), a private university in Mexicali, Mexico.
---
Ethnic Studies Alumna Cheryl Flores Is Helping Preserve Indigenous Food and Language
As part of her senior project, Cheryl Flores (Ethnic Studies, '22) focused her advocacy and research on Indigenous language and food, using her own family in a case study on assimilation. Flores' project, titled "Erased: Growing Up Brown in the United States," focuses on the process of acculturation and its effect on families, including lost aspects of their culture. Flores is a passionate advocate and has presented at college-level events like the College of Liberal Arts' 2022 Teach In. After graduating, Flores became the coordinator of Cal Poly's Native American and Indigenous Cultural Center and is pursuing a master's in the Educational Leadership and Administration program with the goal of helping other students who may not see their identities reflected around them.
---
Using Artificial Intelligence in Wildfire Recovery
Social sciences Assistant Professor Andrew Fricker, computer science Assistant Professor Jonathan Ventura and a team of students have used artificial intelligence to train a computer to quickly assess wildfire damage — potentially improving response time for wildfire recovery efforts. The team's project, DamageMap, involved training a computer to identify wildfire damage from aerial photos. When tested on images from California's Camp and Carr fires, DamageMap produced results that were over 90% accurate compared with official damage reports. Fricker used funding from a Cal Poly Research, Scholarly and Creative Activities grant to gather data, hire student research assistants and attend Google's Geo for Good conference.
2011 CLA Honored Alumnus Completes His Degree After Nearly 40 Years
Following a whirlwind career that took him around the world, 2011 CLA Honored Alumnus Mike Griffith officially graduated from Cal Poly at the 2022 spring commencement — a feat 40 years in the making. Griffith had nearly graduated in 1983 when a "perfect" job opportunity fell into his lap. He later became a top executive at preeminent lighting company Electronic Theatre Controls Inc. Since retiring in 2015, he has been "wrapping up loose ends," including taking his final Cal Poly class online (which was only made possible by the shift to remote learning) and organizing a concert for his senior project.
---
Journalism Department Granted Full Accreditation
The Cal Poly Journalism Department has received full accreditation, joining 117 other programs around the world to receive such validation. The Accrediting Council on Education in Journalism and Mass Communications (ACEJMC) voted 18-0 in favor of the decision. Cal Poly is now one of eight journalism programs in the California State University system to be fully accredited by ACEJMC.
---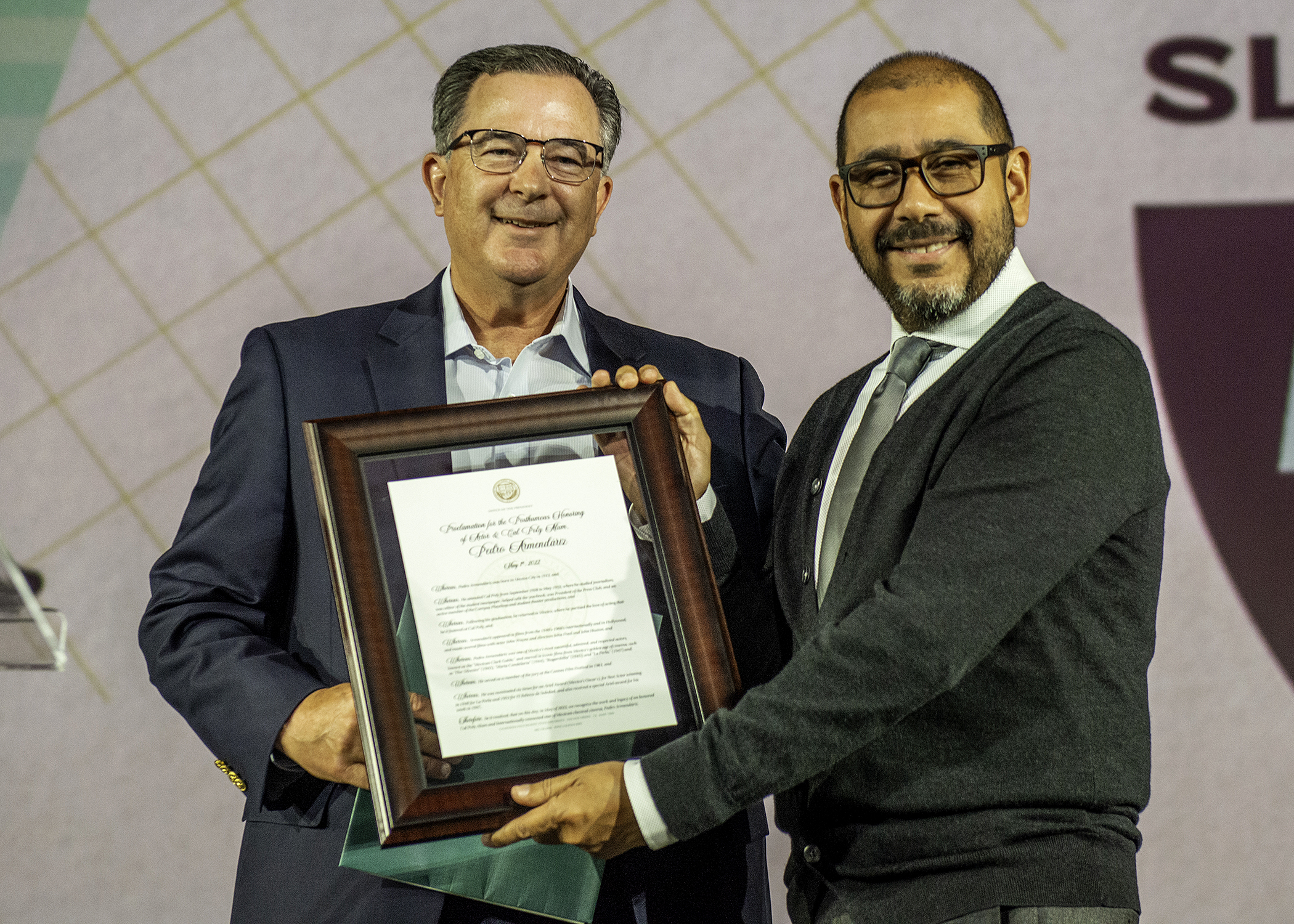 Cal Poly Alumnus and Actor Granted Posthumous Award
Dean Williams presented a posthumous award to Pedro Armendáriz at the 2022 San Luis Obispo International Film Festival's screening of "La Perla," an iconic Mexican American film in which he starred. Armendáriz was a Mexican actor who attended Cal Poly from 1928 to 1932 before starring in numerous films from Mexico's Golden Age of Cinema. As a student, he explored many subjects including mechanics and journalism, was involved with the Press Club and El Rodeo yearbook, and performed in student theater productions. Partly due to the Immigration Act of 1924, Armendáriz faced discrimination as one of only two Latinx students at Cal Poly. Now, he is being honored with this award and a resolution delivered to his family by the head consul for the Mexican Consulate in Oxnard.
ISLA Hosts Inaugural Social Justice Film Festival
The Interdisciplinary Studies in the Liberal Arts (ISLA) Department hosted its first Social Justice Film Festival in April 2022 at local brewery SLO Brew Rock. The festival included screenings of "Black Panther" and "The Farewell," followed by a keynote address from activist Ayana Jamieson and a panel discussion with local guest speakers, respectively. ISLA Associate Professor Emily Ryalls spearheaded the event as a contribution to social justice efforts on Cal Poly's campus.
---
Graphic Communication Students' Sustainable Packaging Design Wins First Place in National Competition 
Seven graphic communication students won first place in a national college-level printing competition, designing new sustainable packaging and labels for a San Luis Obispo-based gourmet cupcake and dessert business, SeaBreeze Cupcakes & Sweet Treats. The team spent the 2020-21 academic year brainstorming, researching market trends and developing their design plan for the 2022 Phoenix Challenge with guidance from Professor Xiaoying Rong. 
---
Political Science Professor Gives Expert Witness Testimony in Ohio Supreme Court Case
Political science Associate Professor Michael Latner played a key role in the redistricting of Ohio. As an expert witness with the Brennan Center of Justice, he analyzed several redistricting maps and determined whether they favored one political party over another. Latner has also co-authored two books on congressional and state legislative gerrymandering and served as an expert witness for prior redistricting cases.
History Student Selected for Prestigious Panetta Institute Internship
Ethan Gutterman, a third-year history major and ethics, public policy, science and technology minor, is representing Cal Poly in the Panetta Institute Congressional Internship Program as the 2022 awardee. After a two-week training period at the Panetta Institute at CSU Monterey Bay, Gutterman began work in the Capitol office of a California congressional representative in Washington, D.C. this fall. After earning his degree from Cal Poly, he hopes to work in local government with a focus on housing and transit policy.

---
Philosophy Faculty Awarded Inaugural Grant to Study Outer Space Cybersecurity
The Ethics + Emerging Sciences Group, in partnership with computer science and aerospace engineering faculty, has won the United States National Science Foundation's first-ever grant to study outer space cybersecurity. The project will research and anticipate a myriad of cyberattack scenarios to help inform national and international policies, as well as identify and address the ethical and legal gaps that might enable conflicts. The two-year program is funded for $300,000 and will be led by principal investigator and philosophy Professor Patrick Lin.
---
Mustang Band Rings in the New Year in San Francisco
The Cal Poly Mustang Band helped celebrate the Year of the Tiger at the Alaska Airlines Chinese New Year Parade in San Francisco. The Feb. 19 performance marked the marching band's seventh time participating in the Lunar New Year celebration. More than 200 musicians representing several academic disciplines took to the 1.3-mile parade route, spreading Mustang cheer from Union Square through Chinatown.
---
Child Development Student Offers Counseling at Black Academic Excellence Center
Kianah Corey enrolled at Cal Poly as a liberal studies major before switching to child development and changing her career goal from teacher to therapist. This change was triggered by a racist incident in which Corey was called a racial slur twice on her third day of school, motivating her to create a space where students like her could find the care and support they need. She founded Kiki's Corner, a nonclinical, peer-counseling resource housed in the Black Academic Excellence Center. There, Corey provides Black students with one-on-one or group counseling sessions in a confidential space. This resource will extend beyond her time at Cal Poly, allowing her to leave a legacy that supports other Black students.
---
Related Content